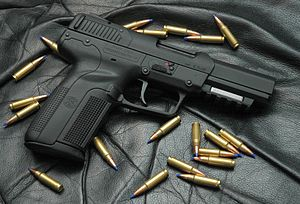 Weapon Name:
FN Five-Seven
Type Weapon:Hammerless Semi-Automatic Pistol
Country of Origin:Belgium
Caliber:5.7x28mm
Mag Capacity:10-30 Round Magazine
Introduced In:1993
Service Length:1993-Present
By 1991,NATO was in search of an ammunition that could replace the 110 year old 9x19mm Parabellum that was associated with many of the pistols and submachine guns used.Eventually the 5.7x28mm ammunition was the ticket and soon after that,The FN P90 and the pistol known as the FN Five-Seven,Were a couple of the first 2 weapons that could fire the new ammunition.
Present DayEdit
Like the P90,The Five-Seven pistol has seen action all over the world,With it's low recoil,Accuracy and even the ambidetrous shape.
Ad blocker interference detected!
Wikia is a free-to-use site that makes money from advertising. We have a modified experience for viewers using ad blockers

Wikia is not accessible if you've made further modifications. Remove the custom ad blocker rule(s) and the page will load as expected.