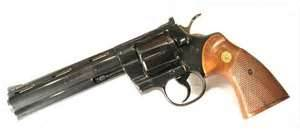 Weapon Name:
Colt Python

Type Weapon:Double-Action Revolver
Country of Origin:USA
Caliber:.357 Magnum
Mag Capacity:6 Round Cylinder
Introduced In:1955
Service Length:1955-1999
Users:
The Colt Python Revolver was manufactured by Colt's Manufacturing Company in Hartford, Connecticut, back in 1955 and was made through until 1999. The revolver was was once made, chambered in a 38 Colt Special and eventually the weapon was chambered in a .357 Magnum.
Present DayEdit
The Colt Python was manufactured until 1999 and is a rare weapon to own. It has also been the collected by many celebrities such as Elvis Presley and Hussian I owned them.Some members of The Black Beret Corps utilize this weapon as well as a sidearm.
Ad blocker interference detected!
Wikia is a free-to-use site that makes money from advertising. We have a modified experience for viewers using ad blockers

Wikia is not accessible if you've made further modifications. Remove the custom ad blocker rule(s) and the page will load as expected.